Winter Wonderland Excursion $165.00 pp – min 8
Fur Rondy, Iditarod, and Spring Break special
Call for a schdule of departures

Exclusive departures for groups of 8-22 available upon request

11:00 am departure - 3:45pm return

Our journey up Blackstone Bay takes us along the shores of this fascinating fjord carved by the ancient glaciers on their great retreat. It is an epic story of the powers between ice and granite. Live the history of glaciations as we cruise among the sheer cliff walls, wide glacier outwash streams, and deep groves and striations scoured in the rock walls.
In less than one hour from Whittier you will be sitting at the face two tidewater glaciers, Beloit and Blackstone and see the numerous hanging glaciers, remnants of giant glacier's retreat. During our adventure we'll step ashore to experience the natural geology and thick rainforest. Enjoy a snack and hot drink as you reflect on your journey and this magnificent nook of Alaska.

Call to check tour availability!
Spring Skiing in Prince William Sound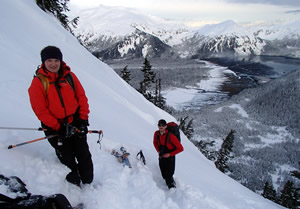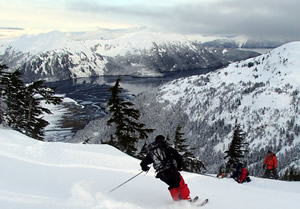 Enjoy and epic adventure in Prince William Sound's backcountry. Lazy Otter Charters provides water taxi to Pigot Bay Cabin, Paulson Bay Cabin, Goose Bay Cabin which are some of the best skiing in Western PWS. See Skiing page for more information.